About Victor E. Jones
---
Dynamic Drummer from NYC/Copenhagen, Denmark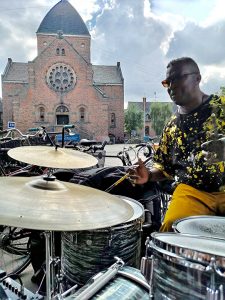 Victor Jones, considered a visionary in today's music business, is a new breed of Drummer/Bandleader bringing new and exciting ideas to the world of jazz and world music.
No stranger to traditional or modern jazz, Victor E. Jones started his career as a teen-age musician playing in local bands in his birthplace of Newark, New Jersey and touring world-wide with Lou Donaldson. In his early twenties he toured the world with Stan Getz. Later tours were with James Moody, Michel Petrucciani, Joe, Olivia, Stanley Clarke,, Phyllis Hyman,, Dizzy Gillespie and Chaka Khan as well as others.
Victor played on the Grammy nominated EMI Korean recording, Second Moon, which won Record of the Year in 2006. Victor also was featured on the Best Latin Jazz recording in 2008 with Papo Vasquez. When asked about his greatest achievement he replied, "My greatest achievement in life was having five children with my wife Ane Jones."
Since 2003 he has been a Bandleader with his own World Music Band, Cultur-Versy, these days specializing in a new age type of music, a mix of dance music, hip-hop and electro pop. This group currently has three CDs out, the latest named Dance Floor 54.
Stan Getz said, "Victor is one top of the world caliber drummers and I don't say that lightly."
George Benson states,"Whether playing funk, rock or jazz, Victor Jones is one cat that gets it right."
Victor E. Jones C.A.F.E. Trio: Live at Bradley's in New York City
– By Geraldine Wyckoff
"Hey, nice set!" was undoubtedly the reaction as the audience left this last recording session at the legendary club Bradley's. Drummer Victor E. Jones and his trio with David Kikoski on piano and Essiet Essiet on bass lived up to the combo's name C.A.F.E.-"Classics Are Forever"-reworking some of jazz's important compositions. Jones wasn't the only one with tempo on his mind, all three musicians are rhythm makers this night. "Love for Sale" is given a bossa nova beat punctuated by Kikoski's strong left hand and Essiet's rounded bass. It makes a nice entrance for the next cut, Jobim's "Corcovado." Things get poppin' on "Seven Steps to Heaven," which opens with Jones and Essiet exchanging bars and gives the drummer room to stretch out on a solo. The date ends with a lovely extended interpretation of Frank Foster's "Shiny Stockings." Simply a solid set.